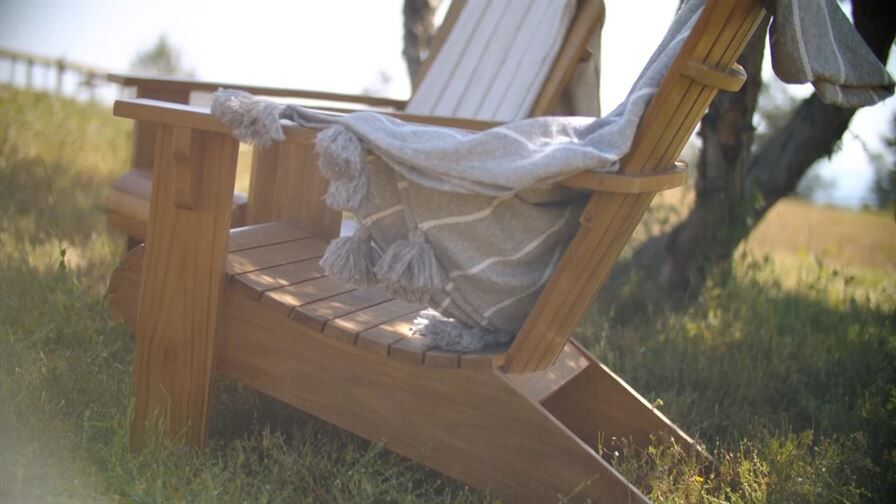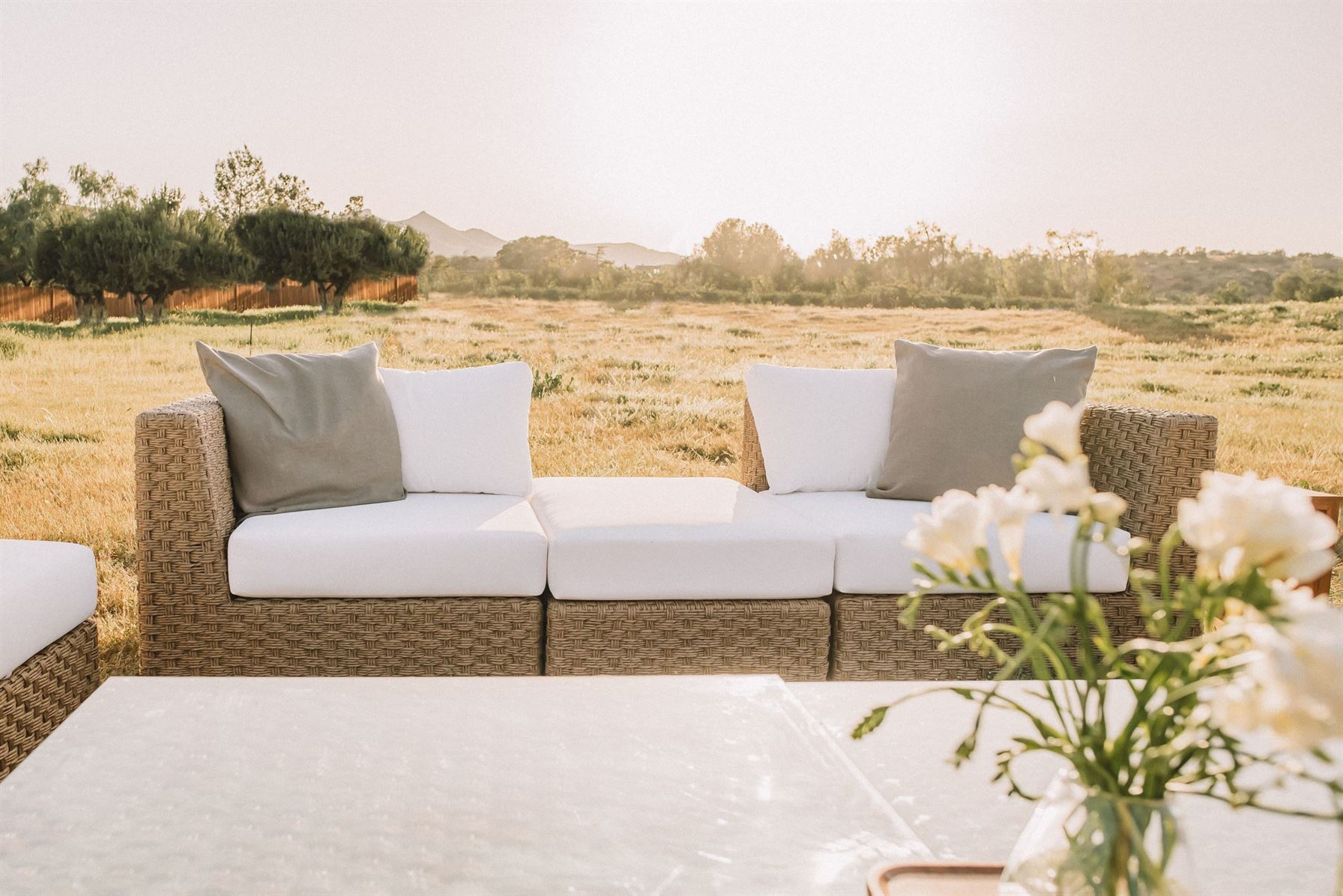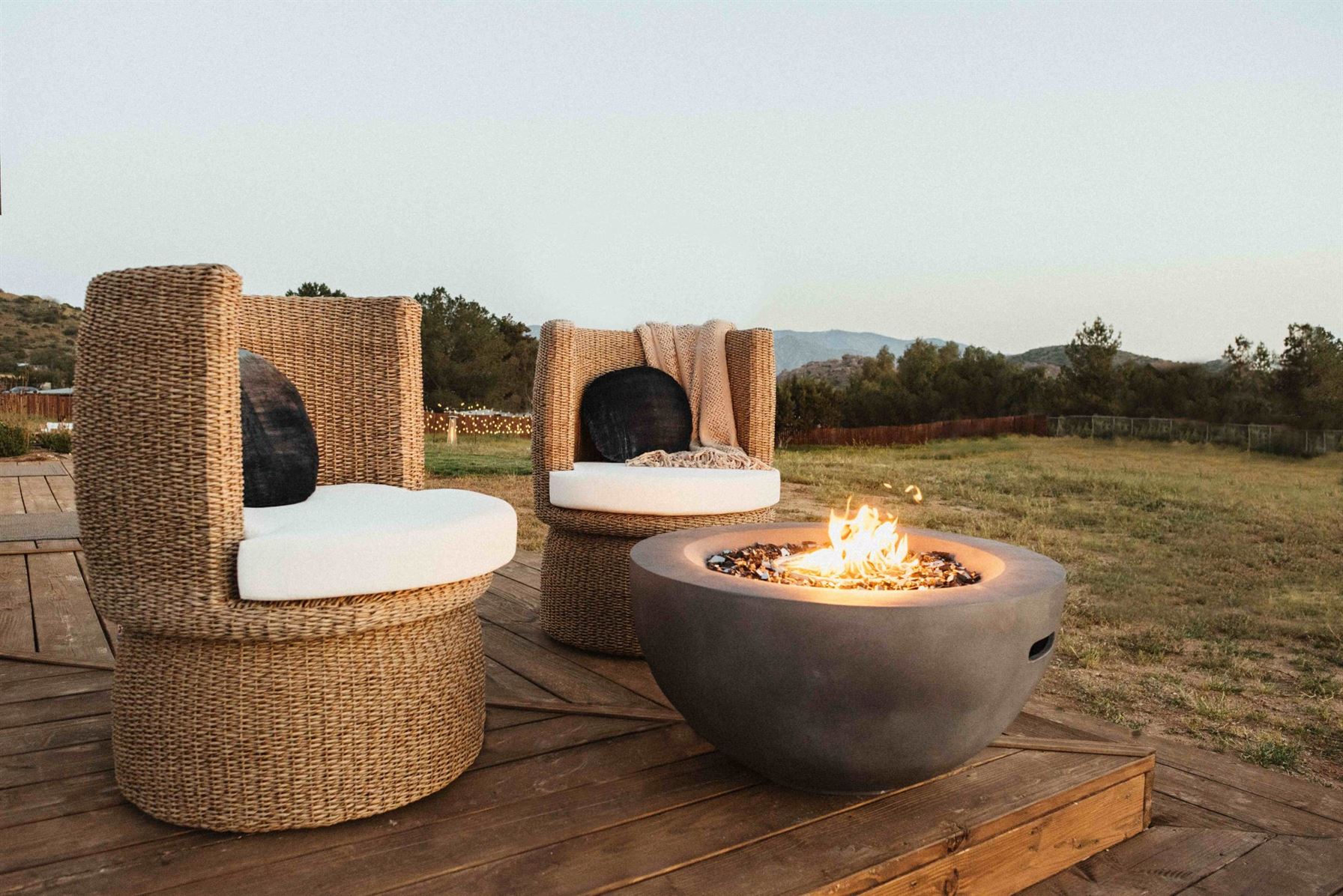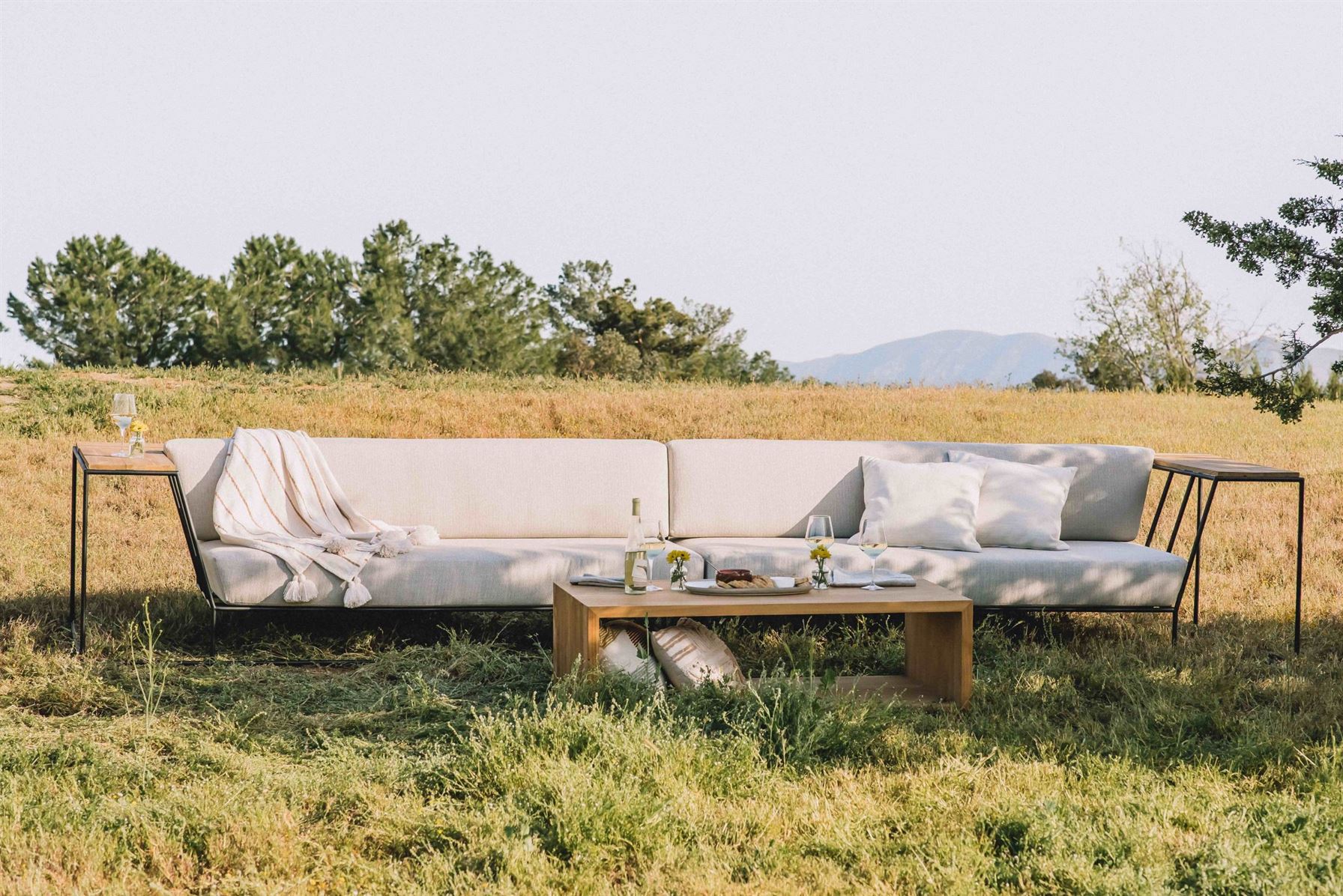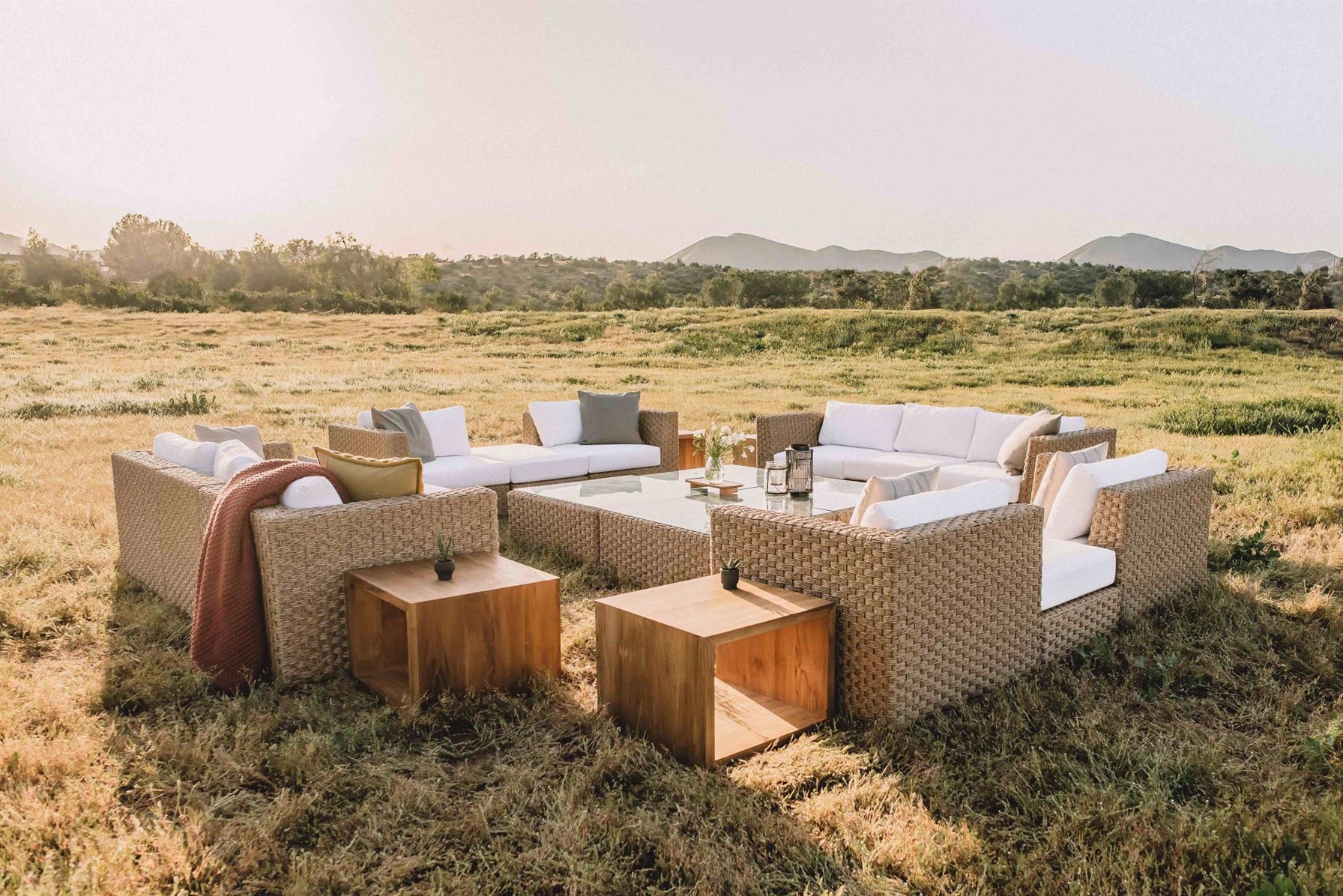 Custom Commercial
Outdoor Furniture
Hotels | Restaurants | Shopping Centers | Parks
Designers, purchasing groups, and small business owners love our custom-made commercial outdoor furniture. You imagine it, we can make it! All we need is your inspiration image or sketch.

Exquisitely designed and highly durable, our contract-grade furniture can be customized to fit your project's needs, no matter how big or small.

Looking for innovative commercial outdoor furniture designs for your next hotel, restaurant, or other outdoor project? Contact us today!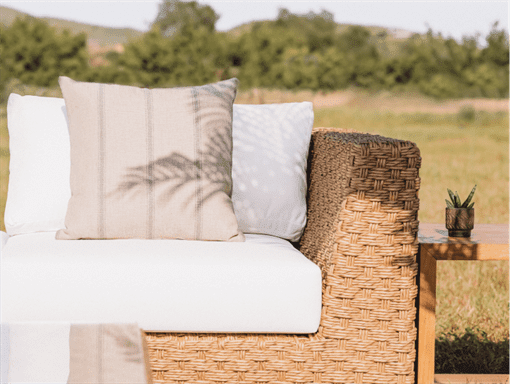 Made-to-Order Program
Make our furniture collections yours. Customize any piece to fit your brand and style. Choose your color, finish, and custom cushions to create the perfect look from our selection of made-to-order contract outdoor furniture.

From sofas, to chaise, to chairs, we have a style and design to fit your needs. Looking for something sleek and modern or warm and cozy? Browse our collections of fully customizable commercial outdoor furniture.

Once you've found the perfect style, select your finish, color, and fabrics. All of our cushions are cut and sewn by hand by our team of custom craftsmen and seamstresses.

Whether you're an independent interior designer, part of an architectural firm, or managing design on the brand side, you'll find a wide selection of customizable made-to-order furniture for your outdoor spaces.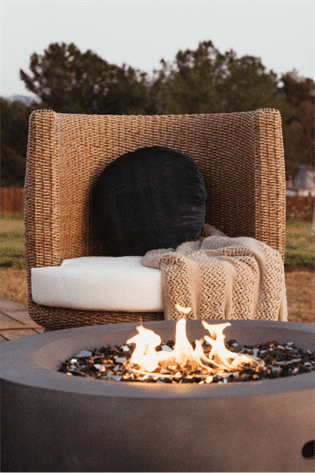 Quick Ship
Program
If your project needs faster delivery, our quick ship program offers a selection of our most popular collections. These products allow for custom cushions and ship in 2-3 weeks.

Our 10 Tierra collection, among others, is available for quick ship and features everything you need to deck out your outdoor space. From dining tables and chairs, to sectionals, to a super-comfortable double chaise, you'll find something special.

Select your fabric and we'll get started on your custom cushions. Everything is of course made from materials that are specially designed to withstand exposure to the sun, rain, and harsh weather.

This option is perfect for bars and restaurants that are on a tight budget and deadline and need stylish yet durable and safe outdoor furniture for your patio space.
Inspired Outdoor Furniture
Caluco is your source for contract, hospitality, and commercial outdoor furniture. We offer a wide range of high-quality, commercial-grade outdoor furniture for the hotel and hospitality industry at the best prices. Caluco's catalog is designed to fit all interior styles and architectural volumes, so that purchasing groups, consumer, designers, and landscape architects can always find the solution to their contract or project needs. Looking for innovative commercial outdoor furniture designs for your next hospitality project? Contact us today!
Exquisite Design
Our hospitality commercial patio furniture pieces are recognized for their exquisite design. We offer a large assortment of high quality, custom-crafted pieces demanded especially across the hospitality industry. You imagine it, we can make it! All we need is your inspiration image or sketch.
Innovative Customer Patio Furniture
At Caluco, our innovative and strong product line, created specifically for the hospitality industry, gives infinite solutions to your seating area conundrum. An increasing number of businesses that use our hospitality patio furniture allows us to constantly set new standards in design, purpose and perception of commercial outdoor patio furniture.
View Our Custom Outdoor Projects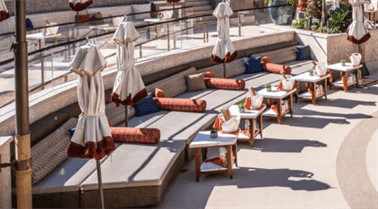 Establishment: TAO Nightclub
Location: Las Vegas, NV
Year: 2023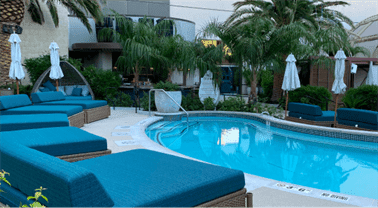 Establishment: Resort World
Location: Las Vegas Nevada
Year: 2023
FAQs
Yes! Caluco is known for its custom outdoor furniture, especially for the hospitality industry. We can handle any size project, from your initial sketch to on-site installation. Whether you need to outfit an outdoor patio, dining area, or pool lounge, we can craft the right look, materials, and colors for you and your customers.
Contact us to discuss your project needs, while providing any inspirational images or sketches you might have. We will then work with you to design your custom furniture that fits your specifications and required dimensions. Once you approve the quote, we manufacture and deliver your custom outdoor furniture. Contact our sales reps to get started today!
We can work with any industry, including hotels, resorts, restaurants, malls and shopping centers, golf courses, parks and outdoor recreational areas, motels, bars, and more. If you have an outdoor space, we can supply you with superior outdoor furniture!
Some of our recent projects include The Venetian Resort Las Vegas, TAO Nightclub, Hyatt Regency Indian Wells Resort & Spa, City National Plaza in Downtown Los Angeles, and SeaWorld Orlando.
All of our furniture is designed to be weather-resistant and low maintenance. However, you should regularly inspect and clean your furniture with the appropriate cleaning solution for your furniture's material. For most pieces, wipe down with mild soapy water, rinse clean, and dry thoroughly.
Be sure to use furniture covers when the pieces are not in use. If possible, store your furniture indoors in order to extend its life even further.
Yes, we have a wide range of made-to-order outdoor furniture collections. All of these items are customizable and can include sofas, tables, chairs, chaise lounges, ottomans, and more. Depending on the piece, you can customize the finish, color, and fabric.
Yes, we have a number of quick ship outdoor furniture collections available for clients who are on a tight deadline. All of the cushions for our quick ship items are customizable and custom-made.
We sometimes will sell our quick ship collections to retail consumers. Contact us and we can discuss!
This website uses cookies to improve your experience. We'll assume you're ok with this, but you can opt-out if you wish.AcceptReject
Privacy Overview
This website uses cookies to improve your experience while you navigate through the website. Out of these, the cookies that are categorized as necessary are stored on your browser as they are essential for the working of basic functionalities of the website. We also use third-party cookies that help us analyze and understand how you use this website. These cookies will be stored in your browser only with your consent. You also have the option to opt-out of these cookies. But opting out of some of these cookies may affect your browsing experience.
Necessary cookies are absolutely essential for the website to function properly. This category only includes cookies that ensures basic functionalities and security features of the website. These cookies do not store any personal information.
Any cookies that may not be particularly necessary for the website to function and is used specifically to collect user personal data via analytics, ads, other embedded contents are termed as non-necessary cookies. It is mandatory to procure user consent prior to running these cookies on your website.
Call Us! (818) 898-7767